Amisha patel in Dhaka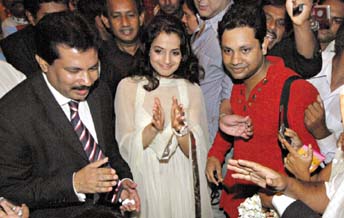 Heavy crowd converged in front of the newly established fashion house named Zaara at block number 14 of posh Gulshan yesertday afternoon to have a glimpse of heart-throbbing popular Bollywood film star Amisha Patel who inaugurated it.
The pressure of the enthusiastic crowd was so heavy that it was virtually impossible for any transport to pass through the block.The line of her curious fans extended up to Gulshan-Mohkhali Road creating unbearable traffic jam for about an hour.
Amisha Patel arrived Dhaka yesterday on a day-long visit to inaugurate the fashion house showcasing sarees, lehengas, three-piece, salwars, panjabi, sherwani, fatua and kids wears.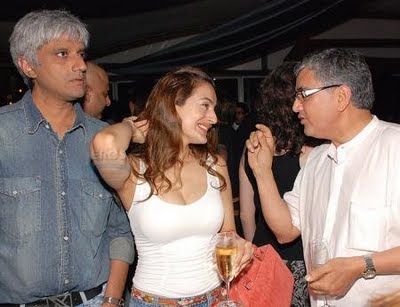 Some leading entrepreneurs including FBCCI Director Mir Nizamuddin Ahmed, Shafiqul Islam Vorosha, Amir Hossain, Enamul Haque, Md Ismail and Nazimul Haque have established the fashion house to cater to the needs of the affluent and rising middle class families.
Specious and elegant space of Haque Plaza's first floor housing the fashion outlet is fully ready to serve the customers.
Management of Zaara declared 20 per cent inaugural discount and lucky mega draw.