Bashar in a new role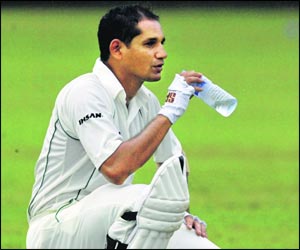 Former national cricket captain Habibul Bashar will spring a surprise for his ardent fans, as he will be seen in a new role in the coming Eid festival.
Bashar, who has in the past thrilled the crowd with his superb batting, will now show his prowess in the field of acting as he is playing the role of a police deputy commissioner in a special telefilm to be shown during the Eid on Channel I.
He is acting in a telefilm named 'Password' written by child litterateur and famed television personality Faridur Reza Sagar. The other actors in the 'Password' are Rokeya Prachi, Hasan Masud, Pijush Bannerjee, model and cinema artist Ahona along with a number of child artists. The telefilm was shot in the Indian state of Orrissa's Puri sea beach, and Surja Mandir and also shot at locations in Dhaka and Nawabganj. The 'Password' was directed by Mahbub Matin, who also wrote its script.
Bashar was first approached by Mahbub Matin to act in his telefilm. He at first showed his reluctance whether he would be able to act. Mahbub Matin managed to convince him to accept the role and in the end everyone was amazed with Bashar's hidden acting talent. Channel I senior reporter Ehsan Mohammad encouraged him most and said that in the past he has tamed leading fast bowlers of different Test playing countries and there was no reason why he will not be able to shine as an actor. Despite that Bashar took 14 days to take his decision to act in a telefilm.
-New Nation