Lalon Mela ends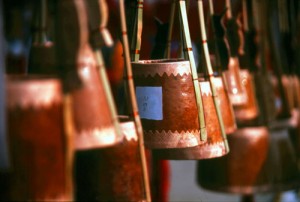 To mark the 119th death anniversary of Fakir Lalon Shai, a three-day fair titled 'Lalon Mela' and musical programme ended at Chheuria Lalon Akhra in Kushtia yesterday. The three-day programme included a 'Lalon Mela,' discussion and rendition of songs by artistes of Lalon Academy and bauls from across the country.
Khondaker Rashiduzzaman Dudu was present as chief guest at the concluding day of the festival, while former treasurer of Islami University, Kushtia was main discussant on the occasion. District Commissioner and President of Lalon Academy, Kushtia Md Abdul Mannan chaired the function. After discussion, artistes of Lalon Academy rendered songs in the programme.
The programme was inaugurated by the Special Assistant to the Prime Minister Mahbubul Alam Hanif on October 16.
Lalon Academy, an organisation consisting of elected people to look after Lalon's shrine organised the event sponsored by Banglalink in association with the Ministry of Cultural Affairs. The whole event was supervised by the Kushtia district administration.