One up on expectations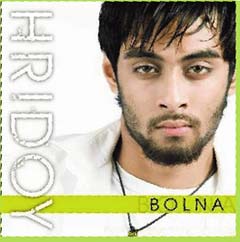 The music stores ran out of the album the first day it arrived at the market. Hridoy Khan's romantic solo album Bolna has been instantly appreciated by the audience. And the FM channels have spread the popularity even further.
Mon tore boli joto/ tui cholechhish tori moto/ shaddho ki amaar chhuti tor pechhone/ mon boli tui phire cha/mon chhara ki jay re bancha/ tui chhara ache ke bol jibone
– this track is perhaps the most popular song in recent times from Khan's latest solo.
The magnetic tune of the song along with the other beautiful numbers in the album has already created a stir among music lovers. The album even caught the attention of those who are not very regular in listening to Bangla music.
While it comes as a pleasant surprise for those who are listening to Hridoy Khan's music for the first time, the album was a much awaited one for his fans.
The album has nine tracks. While the overall sound is good, some of the tracks are particularly beautiful – like the title number Bolna. Onuronon, Chhuye dao amay, Dhua dhua are some songs that render a special feeling into the hearts of the listeners.
Onuronon is a very melodious romantic song. The sweetness of the lyrics mingles perfectly with the music and its beautiful rendition. The lyric goes bhule jeona jotodur ami jai/ robo tomari mone/ ashbo fire ami/ doshshi batash hoye/ tomari alingone/ abaro uthbo mete onuronone.
The album offers a wide range of music. It experiments with composition and the tracks do not cause monotony. Though more focused on the slow numbers, it also includes song like kotha dao, which is a fast beat number that you can tap your feet to.
The songs are very melodious, powerful and bear a positive energy. If you listen to the songs it will change your mood to a better one for the day. Those who have not yet listened to it, is surely missing a good treat.
Source: The New Age