Rhythms and melodies of Bangladesh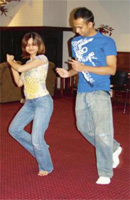 At the Atwood Memorial Center Ballroom of St. Cloud State University has come alive with music and performances as it plays host to the 17th Bangladesh Cultural Night. The theme for this year's Bangladesh Night is "Rhythm and Melody."
"Every year we look for something new and different," said Niveen Khan, president of the Bangladesh Student Association in SCSU. "The musical culture of Bangladesh is very rich."
Khan informs about 500 attendees. The past Bangladesh Nights have generally attracted 400 to 500 people.
The Bangladesh culture is a rich tapestry of many different religious and ethnic influences. Bangladesh culture is heavily influenced by various religions and its neighboring countries.
.
Students are encouraged to attend the event as the entertainment for the night includes five dances and three musical performances. Traditional Bengali food will be served during the night as well.
Authentic Bengali cuisine such as the polao rice, chicken roast and jhora shemai will be served. The polao rice is a dish where the rice is cooked in a seasoned broth. The jhora shemai is vermicelli fried in a type of South Asian clarified butter called ghee. All of the food will be prepared by the members of the Bangladesh Student Association.
"We aim to give them a glimpse of our tradition and culture," Khan said. "We have been trying to do so over the years."
The Bangladesh Student Association is a relatively small association, with 13 members actively involved in organizing and managing this event. However, Khan said they are all "pulling their own weight."
One of the musical performances that will be performed Saturday is a medley of three popular songs in Bangladesh.
A dance performance based on a very popular number by a Bangladesh composer named Habib will also be done.
"The thing I look forward to the most is their cultural dance" said Zheng Yang Tan, an international student from Malaysia. Tan expressed his interest in Bangladesh Night as he has not had previous exposure to their culture. For him, this event is an opportunity to "get involved and learn" the Bangladesh culture.
Also featured during the night's performance will be the Bangladesh version of John Denver's renowned song "Annie's song." The Bangladesh version of the song was originally performed by a Bangladesh artist called Shumon as a dedication to John Denver.
An after-event dance party will be held in the Atwood Quarry to celebrate the result of their hard work and preparation.