Swine Flu to peak in a week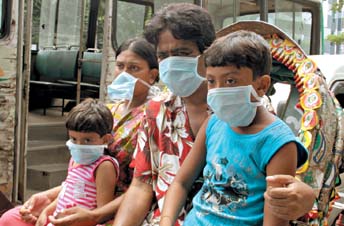 The country on Tuesday confirmed a record 34 swine flu cases overnight, while government apprehends the A (H1N1) virus would touch the peak in a week.
"We recorded the highest number of 34 swine flu cases today. And this number would grow at least for next one week with more cases detected in laboratory tests," government spokesperson Prof Dr Mahmudur Rahman told BSS.
Rahman, however, said the people should not be panicked since the swine flu was not so fatal like the bird flu, a disease where mortality rate is over 80 percent compared to only one percent in the case of swine flu.
The bird flu, also known as avian flu or avian influenza, swept over Bangladesh in last two years, causing a devastating effect on economy, health, nutrition and jobs in the informal sector after destroying most of 1.5 lakh poultry industries. There was no death, however, from bird flu, although one human case was recorded.
Prof Rahman said contagious infectious disease like swine flu tends to rise sharply within a short period of time and then fall sharply. So, the people should be afraid of the flu even if more and more people are infected by it.
Rahman, also director of the institute of epidemiology, disease control and research (IEDCR), said most of the infected people have been cured through isolation at home and treatments. Only eight persons are now in the hospital, with one patient in a critical condition, he said.
Health Minister Dr AFM Ruhal Haque held two separate meetings at his ministry today to review the overall situation of the swine flu, which has affected a total of 247 people until today and killed one since the first case of disease was detected on June 18. "The media has a big role to make people aware and remove fear and panic from the minds of people through dissemination of right information," the minister said at meeting with the senior managers of different TV channels.
Ruhal Haque said the media should remain careful against unscrupulous businessmen, who have been trying to make money out of propaganda. In this context, he said, few importers have been trying to create panic for selling disposable masks imported from abroad.
"We don't need such expensive masks. In fact, masks are not needed to protect oneself from swine flu. Even if people prefer to have it, they should buy local ones," he said.
The minister was informed that the country has enough stock of anti-viral capsules and it would treat up to two lakh people for months with the present stock of medicine. Besides, five companies have been kept readied to produce Oseltamivir in case of any emergency.
"Panic can lead to total collapse of health system. So proper message to people is main task now," added the health secretary, who favoured consulting communication experts to give messages in electronic media.
Chief News Editor of private ETV Pranob Saha said the death of the first swine flu cases was likely to have an economic impact as a number of foreign tourists cancelled trips to Bangladesh. More than 55 tourists cancelled their tour to Dhaka, Saha said quoting three tour operators, who requested media to help defuse panic.
The rapidly deteriorating situation of the flu has prompted authorities to change guideline to start symptomatic treatment for all suspected cases, instead of going through laboratory tests.
"We have issued a new guideline of treatment to all hospitals today, asking them to start presumptive treatment for any patient having flu symptom," Mahmudur Rahman told journalists.
He said the Center for Disease Control and Prevention (CDC) and World Health Organization (WHO) have a guideline to start treatment, when infections were coming within communities with higher frequency.
Besides, Rahman said it was simply impossible to go for tests for every suspected patient at IEDCR, one of 126 influenza center in world, because of time and cost. A H1N1 test at IEDCR laboratory usually takes between 8 and 24 hours at a cost of Taka 10,000 per person.
"Our main message is keep away from swine flu patients, wash your hands with ordinary soaps as many times as it is required."
The IEDCR earlier said Bangladesh was not free from the danger of swine flu epidemic as the World Health Organization (WHO) predicted "explosion" of swine flu cases globally.
More than one-third of the population might be infected with the flu, it said in an earlier alert, but vowed that the people should not be panicked since the mortality rate is very low.
Health ministry sources said all the patients except eight people now undergoing treatment at hospital were cured within seven days at home isolation. The problem is now lying with the spitting and sneezing practice of the people at public places.
Stephen P Luby, head of infectious disease division of ICDDRB, said in May that Bangladesh was exposed further to emerging infectious diseases like swine flu as some 80 percent people here cough and sneeze in open places, while 11 percent cough on hands and nine percent use sari or clothes during coughing and sneezing.
The health department called upon everybody to avoid sneezing, coughing or spitting just anywhere and to cover their mouth while coughing or sneezing and then wash their hands properly.
The role of the biggest private sector hospitals, who have yet to start treatment of swine flu suspects, were bitterly criticized by a cross section of people.
"I don't know the legal binding, but I can say that these hospitals are ethically and socially bound to treat swine flu patients when the whole nation was struggling to contain the disease," said an entrepreneur, who is involved in telemedicine for over 10 years in Bangladesh.
"A multi-speciality hospital cannot exit without an isolation unit," he said, urging the government to review the license of these hospitals, which would eventually influence other private sector hospitals and clinics to refuse treatment of swine flu patients.
Sources in the government said the health directorate has been planning to introduce telemedicine during the onslaught of the H1A1 virus, but the problem has so far been lying with fund crunch for such new initiatives.
A local company has already contacted IEDCR to help government launch telemedicine, which would respond to hundreds of queries from the panicked people.
Asked about the Anthrax attack in Shanthia Upazila of Pabna, home town of State Minister for Home Affairs Shamsul Haque Tuku, the IEDCR chief said the ordeal is over as disease was brought under control last week.
Source: The New Nation
Added on - September 1, 2009 | Filed under Featured