Traffic System Of Dhaka City Totally Collaps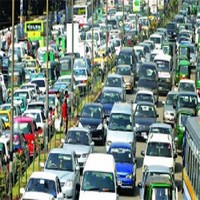 A soaring car selling, bucking a gloomy global trend in the auto industry, in the last five years has been causing severe traffic congestion in the city.(BSS)
"Such a huge growth in car sales has already started to take a heavy toll on the capital. Traffic jams are getting bigger and lasting longer. Already we spend over three hours a day in jams," said Iqbal Kabir, a transport expert, adding: "Dhaka's traffic system is heading for total breakdown."
It is estimated that about 100 used or new motorised vehicles are entering the Dhaka roads every day covering only about 6 percent of the city area. At present, more than 3, 50,000 motor vehicles ply in Dhaka city alone.
They jostle for space on the narrow roads with another half- million pedal-rickshaws and left traffic system in the metropolis in a shambles.
According to Bangladesh Road Transport Authority (BRTA), a record 54,544 new and reconditioned cars were sold in Dhaka upto last year, up 50 percent from the previous five years.
BRTA sources said a record 14,944 new and reconditioned cars were sold in Dhaka last year, up 46 percent from 2007.
"Car sales in the capital hit an all-time high in 2008. It's more than twice the number of cars sold in 2006," said a senior official of BRTA.
Authorities said car sales averaged 5,000 to 6,000 annually for more than a decade until 2006. Car traders said the availability of easy financing had helped fuel the record- breaking sales run since 2006.
"Some 90 percent of the cars we sell are being financed by private banks' consumer financing programmes.
Thanks to easy credit, even middle income people can now afford cars," said Ahmed Kabir, an owner of car shop.
"In addition, banks, big corporate houses give interest-free loans to employees to buy cars. It's also now the most-frequently used carrot to lure the mid- managers," he said.
Transport and urban development experts shudder at the explosion of car sales in the city of more than 12 million people, already notorious for its traffic congestion.
Urban planner Prof Nazrul Islam described the rise in car sales as frightening and lamented that the capital city does not have a mass transport system like a metro rail, commuter trains or even a fleet of taxis.
"Dhaka does not even have adequate footpaths for pedestrians, forcing people to hire rickshaws for the smallest rides," he said.
"The government needs to take urgent steps to save the city from total chaos."
A survey of Dhaka Urban Transport Projects (DUTP) revealed that private cars carry 8.73 percent of total commuters occupying 34.41 percent space of the road.
A large number of cars park illegally on the roadside, which is one of the main causes for traffic congestion in city.
Joint Commissioner of traffic Manzur Kader Khan said parking on the road causes serious traffic congestion in different the areas of city.
Added on - August 13, 2009 | Filed under Featured