Bangladesh beats India in knitwear exports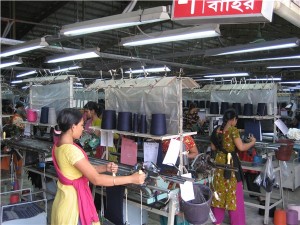 Bangladesh has gained third place in the global market for knitwear exports, leaving India behind, the head of the country's knitwear industry group said this week.
BKMEA president Fazlul Hoque said Bangladesh has been lucky, but he warned there was nothing to be complacent about. "We exported knitwear worth $6.43 billion in FY2008-09, despite the recession, which is up by 16 per cent in comparison to the prior fiscal year," Hoque said, adding that growth could have surpassed 30 per cent had the global recession not hit.

According to Export Promotion Bureau figures, Bangladesh earned $15.26 billon in the past fiscal of which $6.43 billion came from the knitwear sector and $5.92 billion from the woven apparels sector. India, meanwhile, saw a 25 per cent slump in knitwear export in the last quarter, said Hoque. "We are optimistic about reaching second position leaving Turkey behind by the year 2010."
The global economic meltdown may be opening up new prospects for the Bangladesh knitwear industry, despite both prices and exports witnessing a decline due to the slump, said Hoque. "The negative impact on export was not as intense in Bangladesh as it was on other countries." "This recession may be a boon for the knitwear industry provided power supply and government policy support are in place. Many countries will be weak from the recession. But we will be able to enter new markets as we export comparatively low cost apparels and cheap labour," said Hoque.
The BKMEA president expressed some frustration over the government's promised support to export sectors so far, in fighting the recession. "The government has allocated Tk 5000 crore for the export sectors in the current budget to offset the loss from the recession.
But there was no discussion over how the money will be spent." The finance minister in a post budget press conference on June 12 said this issue would be settled in discussion with exporters, but no such initiative has yet been taken, said Hoque.
Hoque said smaller knitwear industries are going through difficulties; if they do not get assistance they may collapse. Hoque also urged all concerned to be aware that the country's image to international buyers does not become sullied due to unrest in the garment industries. "Vandalism and arson in the industry in the name of worker unrest cast a negative image abroad leading to negative impact on exports." He advocated exemplary punishment to those responsible for recent unrest, that involved arson and riots in Savar, to prevent a repeat of violent incidents in the garment industries.
Added on - August 9, 2009 | Filed under Latest