Bangladesh border guards to have new name, uniform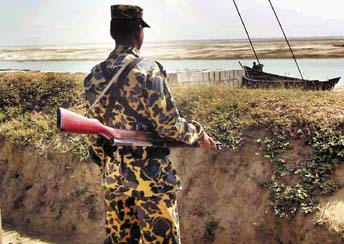 Bangladesh Rifles (BDR), the country's border guards whose troopers mutinied in February killing 73 people, will soon have a new name, uniform, insignia and a law to try those members who commit serious offences, a minister said.
The BDR, which traces its chequered history to the Bengal Regiment of the British India two centuries back, will become Border Guard Bangladesh (BGB).
Prime Minister Sheikh Hasina on Wednesday picked the name and a brown combat coloured-uniform, changing it from the traditional khaki.
While there will be slight changes in the insignia, the motto 'Shimante Atondro Prohori' (ever-awake guard at the border) shall remain unchanged.
An improved pay packet and changed rules for promotion will help meet the ostensible reasons for the February 25-26 mutiny. The rebellion took place over poor working conditions and low wages.
A significant change would be in the intelligence set up. A three-layered organisation will make it efficient and responsible for internal and cross-border intelligence and counter-intelligence tasks.
These changes would be brought about by an act of parliament, The Daily Star said quoting those who attended the meeting, including the Commerce Minister, Col (retired) Faruk Khan.
Bangladesh has a 4,700 km largely riverine border — over 4,300 km with India and 300 km with Myanmar.
Khan said Hasina okayed most of the proposals for restructuring the 67,000-strong force after a presentation made by the BDR Director General Maj Gen Md Mainul Islam.
"The prime minister chose the new name from several proposed names. She also chose the brown combat colour for the uniform, and directed to bring slight changes to the BDR insignia," Khan said.
A proposal is there for changes in the BDR Order 1972, which says that serious offences like murder, attempt to murder, looting, and arson, cannot be tried under the law because those offences are not mentioned in it.
Within weeks of taking office, the Hasina government faced its first challenge when thousands of troopers mutinied at the BDR's Pilkhana headquarter located in the capital.
The rebellion was quelled with the help of the army and hundreds of rebels have been detained.
Bangladesh President Zillur Rahman on Monday sought opinion of the Supreme Court on whether the border guards who mutinied in February should be tried under the civil code or military law.
Rahman made a reference to the apex court on an advice received from the government that wants to determine whether it can apply the Army Act, 1952, Star Online had reported.
The trial process was halted when human rights organisations at home and those abroad like the US-based Amnesty International and the Human Rights Watch objected to the military law being applied to the mutineering Bangladesh Rifles (BDR) troopers, who are otherwise governed by the civil code.
Source: Internet
Added on - August 20, 2009 | Filed under Latest