Bangladesh faces high earthquake risk: expert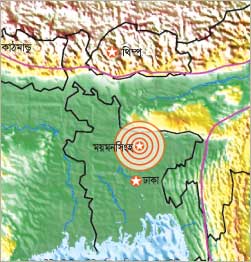 Bangladesh faces a high risk of moderate to strong earthquakes that may result in widespread damage and loss of thousands of lives, leading English-language newspaper The Daily Star reported on Wednesday quoting experts.
Bangladesh also faces the risk of tsunami as four active sources of earthquake in the Bay of Bengal can generate tremors with a magnitude of over 7 on the Richter scale in the Bay of Bengal affecting the country seriously, the newspaper said.
The meteorological department detected at least 90 earthquakes taking place in the country between May 2007 and July 2008, nine of them above 5 magnitude on the Richter scale and epicenters of 95 percent being within a 600 km radius of capital Dhaka city, it said.
Experts said that it is these minor tremors that indicated the possibility of much more powerful earthquakes hitting the country, according to The Daily Star.
According to a seismic zoning map prepared by the Bangladesh University of Engineering and Technology (BUET), 43 percent areas in Bangladesh are rated high risk, 41 percent moderate and 16 percent low, said Professor Mehdi Ahmed Ansary, who is also vice- president of the Bangladesh Earthquake Society.
The map, with funding provided by the science and information and communications technology ministry, divides the country into three earthquake vulnerability zones.
ASM Maksud Kamal, an expert on earthquake and tsunami preparedness, said four sources of earthquake in the Bay of Bengal are active and can generate tsunami.
He said one of the sources generated an earthquake of 7.8 magnitude in 1762. Waves were caused in rivers and other closed water bodies, and around 100 people were killed in boat capsizal at that time in the Buriganga river, which goes through the capital Dhaka.
Mr. Kamal said all the four sources in the Bay of Bengal called F1, F2, F3 and F4 have a capability of generating earthquakes of over 7 magnitude creating tsunami which will affect Bangladesh.
Seven major earthquakes struck Bangladesh during the last 150 years and only two had the epicenter within the country, Mr. Kamal said.
Source: Xinhua
Added on - August 12, 2009 | Filed under Latest