Hindus in Bangladesh celebrate Janmashtami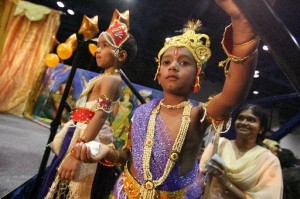 Bangladesh's Hindu community Thursday celebrated Janmashtami, marking the birth of Lord Krishna, with functions organised in the national capital and other parts of the country.
It is a public holiday and President Zillur Rahman will host a reception for leaders of the community at the president's house Banga Bhaban.
Different socio-cultural and religious organisations have chalked out elaborate programmes to observe Janmashtami in a befitting manner, Bangladesh Sangbad Sanstha, the official news agency said.
Estimated to be 11 million as per the 2001 census, Hindus constitute 11.2 percent of Bangladesh's population and are the largest minority. Indians celebrate the festival Friday.
Added on - August 13, 2009 | Filed under Latest