Over 1,000 out-of-work dockers threaten Mongla Port 'siege'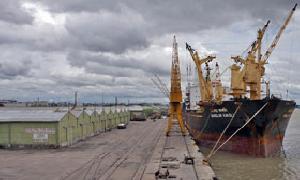 Over a thousand casual workers, who lost their jobs at Mongla Port due to a change in labour laws in 2008, have threatened to lay siege to the seaport from August 17 if they don't get their jobs back and receive payment of arrears still due for past work.
The movement leaders told bdnews24.com on Thursday that they had informed the Mongla Port Authority and Mongla Port Stevedores Association in writing about their planned movement.
After a rally and a procession at Mongla Port Call Station Square earlier this week, the retrenched workers declared that they will lay siege to the port, halting all work there, if their demands are not met by August 16.
Over a thousand dock workers were rendered jobless when the Mongla Port Dock Workers Board of Directors and the Stevedores Association Call Station, or casual workers' booking system, were abolished in line with the Labour (Amendment) Ordinance 2008.
Some 1,016 casual workers, who lost their jobs, claim that the Mongla Port Stevedores Association still owes them Tk 88 lakh in arrears.
Earlier this month, on Aug 4, as a group of the retrenched workers declared a non-stop sit-in pressing their demands, the Mongla Port Authority paid them Tk 41 lakh in Eid bonus arrears from 2007.
The Mongla Port Shipping Workers Union president Shamsul Alam said their demands included reintroduction of the call station system for casual workers, payment of uniform allowance and death allowance, festival bonus and payment of 'golden handshakes' promised to 741 workers in 2005, and payment of wages as per conditions laid down in an earlier tripartite agreement.
Alam told bdnews24.com at least 50 workers had died since 2007 who were members of their union, and whose entitled allowances to families haven't yet been paid.
"A case was filed on August 26, 2008, in Khulna divisional labour court for continuation of the practice of engaging workers through reintroduction of call station," he said.
He said the court on April 5, 2009, ruled to continue with the call station or booking system and ordered the authorities to show reason why the shutting down of the call station was not illegal.
"The authorities were given 15 days to comply, but neither order was carried out."
"Under the circumstances, over a thousand retrenched workers today are going hungry and facing severe hardships," said Alam.
Abdullah Mohammad Khokan, Stevedores Association general secretary and union enterprise managing director, told bdnews24.com, "We are aware of the retrenched workers demands, but they'll need time to be met."
He also said most of their demands are "illogical" excepting the Eid bonus claim.
"About 700 of the 1,000-plus workers are also complaining about having their ID cards cancelled as they had no employers," he said.
Khokan said levies earned by the stevedores had greatly dwindled as the volume of workload has fallen.
Since 2001, the port's cargo handling has come down from 3 million MT to a mere 1 million MT, he said.
Abdullah said the call station was shut down on August 1, 2008 as the Dock Workers Directors Board was abolished.
He also said the Khulna court only ordered a 'status quo'.
"The retrenched workers, demanding reopening of the call station, filed the case on August 26 in the Khulna divisional labour court. The court ordered to maintain the status quo."
"There's no scope for engaging the workers again as per the legal directives issued," he said.
Mongla Port Authority chairman Commodore M Faruque said the port authority has no jurisdiction to meet the workers demands as they concerned the stevedores.
"We can only request them to be more in earnest in handling the retrenched workers issues," he added.
Source: BDNEWS
Added on - August 15, 2009 | Filed under Latest