Remitters seen as 'unsung heroes'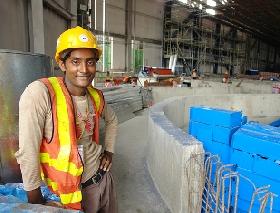 Bangladesh's overseas workers, who remitted a record $9.6 billion or 12 percent of the country's total earnings in the last fiscal year, were termed "heroes" on Monday, while the government was urged to properly evaluate the contribution of remittance earners to the economy.
"These valuable remitters and our garments workers are the 'unsung heroes' of the economy," Dhaka University economics professor Wahiduddin Mahmud said, speaking as chief guest at the Remittance Utshob and Shonar Manush Shommanona 2009.
But, Mamhmud said, the lack of detailed data regarding their work abroad, their situation when they return home, utilisation of their remittance and poor regulation signaled that the government still regarded the valuable foreign currency earning sector as an 'informal' one.
"The government only records how many people went abroad for work and the amount of remittance sent back in a year."
He said, "Proper training and bank facilities should be provided before one leaves for work overseas, and rehabilitation and security for those who return being cheated or because of job loss."
Mahmud also said the remittances, which reached $890 million in July this year alone, should be invested in the country's productive sectors, specifically in agriculture.
He asked the families and relatives of the remitters not to spend the money only in buying land and gold ornaments, but also to invest in agriculture and small industries.
Mahmud also lauded the performance of banks in increasing remittance transfers in recent years by encouraging overseas workers to send back more earnings.
Deputy governor of Bangladesh Bank Ziaul Hassan Siddiqui said, "The central bank is working to further ease money transfers and has approved joint ventures between small banks and NGOs to deliver remittance to the beneficiaries' door steps."
He also asked BAIRA (Bangladesh Association of International Recruiting Agencies) to reduce fees for sending people abroad, as a recent World Bank report criticised the rates as "too high".
Siddiqui also warned the banks not to engage in competition among themselves in fixing exchange rates, which benefits exchanges abroad but not the remitters or beneficiaries.
The Remittance Utshob, or Festival, and Shonar Manush Shommanona (Golden People Awards), was organised by the Refugee and Migratory Movements Research Unit, at the Bangabandhu International Conference Centre.
Some 13 banks were participating with BAIRA, BMET (Bureau of Manpower, Employment and Training) and RMMRU also setting up stalls to deliver remittance related information to visitors.
President of RMMRU Dr Tasneem Siddiui in her welcome speech urged the government to properly evaluate remittance earners' contribution to the economy.
Top officials of the participating banks also gave speeches and recommendations.
A ceremony in the evening will distribute awards in categories for best remitter, remittance utilising family, grassroots bankers, migrant rights protection committees and recruiting agencies.
The finance minister, expatriates welfare minister and the Bangladesh Bank governor are expected to attend the awards.
Source: BDNews Service
Added on - August 10, 2009 | Filed under Latest