Bashundhara, US varsity Jt venture on education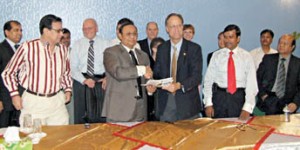 Business conglomerate Bashundhara Group and Emory University of the United States of America (USA) have taken a joint venture initiative to develop an international standard 'Education Zone' in Bangladesh.
Under the project, different types of educational institutions will be set up in the same zone which will be largest education campus in the country.
The proposed Education Zone will include university, medical college, nursing institute, dental college, medical technical institute, physiotherapy college, engineering college, textile college, vocational institute, agriculture institute and IT park.
Bashundhara Group and Emory University yesterday signed an agreement in this regard at a ceremony at Baridhara residence of Bashundhara Group Chairman Ahmed Akbar Sobhan.
Sobhan and Dr Gray S Hawk, Vice President of Emory University signed the agreement on behalf of their respective institutions.
Members of the visiting 9-member delegation of Emory University, Adviser of Bashundhara Group AR Rashidi, Kaler Kantha Editor Abed Khan, industrialist Din Mohammad and senior officials of Bashundhara Group, were present during the signing ceremony.
There will be educational facilities from play group to the highest level of education.
According to the agreement, students will directly get employment opportunity abroad at lucrative salaries.
Addressing the signing ceremony, Sobhan said with the establishment of the Education Zone, local students would get an international standard education and the government would get foreign currency from foreign students.
The Vice President of Emory University said under the agreement they would extend all technical support while the Bangladesh part would finance in the project.
Added on - October 21, 2009 | Filed under General