CPA dredger sinks after collision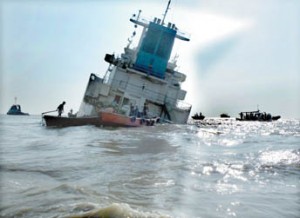 A dredging barge of Chittagong Port Authority (CPA) suffered major physical damage and partially sank in the Bay when a Panama flag bulk vessel rammed it yesterday afternoon.
Sources at the Radio Control of Chittagong Port Authority (CPA) said that the accident took place at about 2:00 PM when a wheat-laden bulk vessel hit the dredging barge Khanak hard reportedly upon an aborted anchorage bid. The barge developed crack following the collision.
The crew members of the barge are safe. Official statement on the damage caused to the wheat-laden vessel was not received till the time of dispatching this report.
The Panama flag vessel MV Utopia laden with nearly 26 thousand metric tons of wheat arrived the outer anchorage of Chittagong maritime port from Singapore yesterday.
The dredging barge Khanak was engaged in the estuary of the river Karnaphuli for maintaining sufficient navigability there and the port channel aimed at smooth movement of the modern vessels.
Senior officials of the CPA said that rescue team and a tugboat have been sent to the place of occurrence.
Captain of the MV Utopia has also been asked to explain the incident.
Process has been in progress to form a probe body for detecting the incident and frame up a compensation claim from the principal of the MV Utopia.
Added on - October 21, 2009 | Filed under General