Delhi keen, but Dhaka wants to go slow on border trade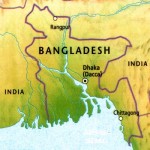 Dhaka has opted for a 'go slow' approach to a proposal by Delhi to set up markets at some border points to facilitate commodity exchange between small traders of the two countries, a media report has said. "We are conducting a feasibility study after India proposed to set up markets in border towns," Commerce Secretary Firoz Ahmed was quoted as saying by New Age.
Trade is high on the agenda of Foreign Minister Dipu Moni who is expected to visit New Delhi early next month.
India has proposed holding the next meeting of the joint working group on Bangladesh-India trade by the end of August.
The Bangladesh-India bilateral trade volume stands at around $3.35 billion, according to commerce ministry sources. The trade gap is huge, with India's exports totalling over $3 billion, while Bangladesh's make up just $350 million, Bdnews24.com website said.
India has given a concept paper to Bangladesh with 20 specific sites where the commodity exchange centres can be set up. Most of the sites are located on the border of India's Meghalaya state abutting Sherpur, Jamalpur, Sylhet and Sunamganj.
The trading centres have been proposed to be set up within five kilometres of the border. Interested traders will be issued identity cards by both the countries to enable them to enter the centres.
No trader will be allowed to exchange commodities worth more than Tk 2,000 (about $29)in a single day, officials said.
A local team comprising officials of the commerce ministry, National Board of Revenue and foreign ministry has visited some of the proposed border towns. An Indian team also joined the visitors when they went to the proposed sites of Simghat, Kalairchar and Gomaghat in Meghalaya.
Experts pointed out that such border trade would not help Dhaka reduce the ever-widening trade gap with Delhi, the newspaper said.
Added on - August 13, 2009 | Filed under General