Warid inks deal with Microsoft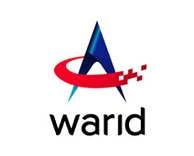 Warid, a telecom asset of UAE-based Abu Dhabi Group recently signed an Enterprise Agreement with the world's leading software company Microsoft, demonstrating the telco's commitment and respect for Intellectual Property Rights (IPR) by using only genuine Microsoft software.
Mr. Muneer Farooqui, Chief Executive Officer (CEO) of Warid and Mr. Feroz Mahmud, Country Manager, Microsoft Bangladesh signed the Enterprise Agreement on behalf of their respective organizations at a simple ceremony held at the Corporate Head Office of Warid at Banani. Senior Officials from both sides were present during the signing ceremony.
As per the agreement, Warid will get new or upgraded version of software, technical support directly and online and onsite training for users from the Microsoft. It will also provide consulting services to deploy latest Microsoft technologies following the internationally proven best-practices.
While signing the agreement, Mr. Muneer Farooqui said, "We are delighted to sign the Enterprise Agreement with Microsoft. As Warid is respectful to local as well as International Rules and Regulations, we have signed the agreement with Microsoft to use its licensed software."
He also hoped it will provide the exciting new technologies to enable faster business communications, provide strong data security and automate work processes which will ultimately help serve the customers more efficiently and effectively.
Mr. Feroz Mahmud said, "Warid has demonstrated a vision of truly responding to the requirements of their customers today and Microsoft is happy to partner with Warid to serve their customers better. Through the use of genuine licensed Microsoft software, Warid is helping to ensure the security of the assets of their valued clients and prompt responsiveness through a highly-skilled, productive workforce equipped to smartly handle today's challenging operation of a Telecom operator."
Under the agreement, Microsoft will deliver different applications, servers and systems software to Warid for standardization of its computers with Windows operating system, Office applications and server-client management tools. Warid will use Microsoft technologies for Office productivity, identity and network management, IT operation management, information security, advance messaging and collaboration and business work-flow automation across the organization.
Source: Internet
Added on - August 18, 2009 | Filed under General