Dhaka rejects Yangon's military build up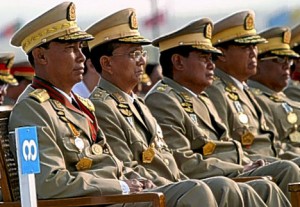 Foreign Minister Dr Dipu Moni yesterday rejected reports about Myanmar's heavy military buildup along Bangladesh border following Dhaka's move for UN arbitration over maritime boundary and said it is routine movements of security personnel.
In reply to a question she told a press briefing that she had talks with the Bangladesh Ambassador to Myanmar and the Foreign Secretary also had discussed it with Myanmar's envoy in Dhaka and they came to know that it's a "routine movement" of Myanmar forces.
Dipu Moni told a correspondent that the movements of the Myanmar security personnel had
no link with Bangladesh's decision seeking UN arbitration to determine maritime boundary between the two neighbors.
She told a questioner that Myanmar is erecting barbed- wire fences within its border maintaining international law, and "we've nothing to say about it".
The foreign minister said she has no specific information about the gathering of Rohingya for pushing them into Bangladesh.
On October 8, Bangladesh sought UN arbitration to settle disputed maritime boundary with neighboring India and Myanmar in a bid to explore and exploit natural resources from the Bay of Bengal.
"We've very limited natural resources and we need to explore and use the resources for our own development," Dipu Moni said, adding: "We want to share the common natural resources based on justice, maintaining our friendly ties with India and Myanmar. We hope we will get fair share through the arbitration."
In reply to a question the Foreign Minister said since quick results
through negotiations with India and Myanmar may not be found, Bangladesh decided to seek settlement of the boundary issue through UN adjudication.
She told a correspondent that Bangladesh has not officially proposed to China for mediation between Myanmar and Bangladesh to settle the maritime-boundary issue.
When her attention was drawn to an Adviser's remarks in this respect, the FM said she can't make any comment on the Adviser's remarks.
Dipu Moni told a correspondent that there is no possibility of Prime Minister Sheikh Hasina's visit to China in November but stated that the visit would take place "soon", at a mutually convenient time.
In reply to a question the Foreign Minister said she has already
discussed Bangladesh's stance on UN arbitration to determine the maritime boundary with the Indian External Affairs Minister over telephone.
She will also discuss the conundrum with the Myanmar Foreign Minister on the sidelines of ACD meeting to be held in Colombo on October 15.
Dipu Moni rejected a notion that Bangladesh decided to go to UN for arbitration under US pressure since a US-based company, ConocoPhillips, has been given the lease to explore gas blocks 10 and 11 in the Bay of Bengal. "I can't make any comment on speculation," she said laughingly.
Recently, the government leased out three gas blocks to two foreign companies for exploration-a move which also triggered protests from a leftwing coalition of protestors at home. ConocoPhilips got blocks 10 and 11 and Irish company Tullow got block 5 for exploration.
Source: The New Nation