Hillary to outline steps for Obama's nuke-free world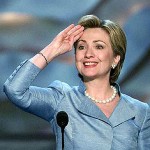 US Secretary of State Hillary Clinton is set Wednesday to outline key steps Washington will take to fulfill President Barack Obama's vision of a world free of nuclear weapons.
In a speech in Washington, Clinton will show how the world will be safer through a new US-Russia nuclear arms reduction treaty as well as broader ratification of a treaty banning nuclear weapons tests, officials said.
"It's going to be an important opportunity for the secretary to lay out our priorities to implement the president's vision at Prague," Clinton's spokesman Ian Kelly said Tuesday.
In a speech in the Czech capital on April 5, Obama pledged to lead a quest for a world purged of atomic weapons when he unveiled a plan to cut stockpiles, curtail testing, choke fissile production and secure loose nuclear material.
"I think she'll touch on some of the steps that we're working hard on to get to that point, including a successor regime to the START treaty and also the NPT (Non-Proliferation Treaty), which is coming up," he said.
A new review conference for the NPT is scheduled for next year.
Washington and Moscow are pursuing negotiations for a successor to the 1991 Strategic Arms Reduction Treaty (START), which strictly limits US and Russian arsenals and is seen as a cornerstone of Cold War-era strategic arms control.
The talks made little progress under former US president George W. Bush.
But Clinton said during talks in Moscow last week that US and Russian negotiators were on schedule to complete an agreement by the time the treaty expires on December 5.
A new negotiating session, set to last two weeks, opened Monday in Geneva, with the US side headed by Assistant Secretary of State Rose Gottemoeller, Kelly said.
With the deadline drawing closer, "both sides are negotiating intensively and seriously," Kelly said Monday.