Khamenei urges OIC to support Palestinians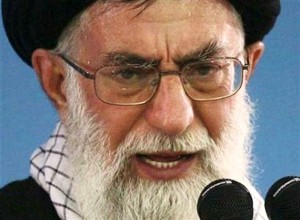 Iran's supreme leader Ayatollah Ali Khamenei on Saturday told the visiting Senegalese president whose nation heads the world's largest Islamic body to do more for Palestinians, his website reported.
"The aim of creating the Organisation of the Islamic Conference is to follow up the Palestinian issue and therefore the OIC has an important responsibility," Khamenei told Senegal's Abdoulaye Wade.
"Today Palestine is really oppressed and alone and is in need of a calculated move (of support) by the Islamic world," Khamenei said without elaborating.
"The demand of Muslim nations is to aid Palestine and it is up to the OIC to bring hope to the hearts of the Palestinian people by supporting them," he added.
Senegal has held the presidency of the the 57-member OIC since March 2008.
Khamenei's comments come nearly a month after he denied that Iran-a staunch supporter of the Palestinians-was seeking a military solution to the Middle East conflict.
Khamenei then stressed it was a "liet claimed by Western media that Iran is attempting to destroy the Zionist regime (Israel) by military equipment."
"The Islamic republic has proposed a reasonable, logical and humane plan," the leader said, referring to a proposed referendum to decide on the future of Israel, the Gaza Strip and West Bank.
However, after the 1979 Islamic revolution, Tehran withdrew its recognition of Israel.
The Jewish state considers the Islamic republic to be its arch-enemy after repeated statements by President Mahmoud Ahmadinejad that the Holocaust was a "myth" and Israel is doomed to be "wiped off the map."
Source: AFP