BDR mutineers' trial: Courts at six divisions this month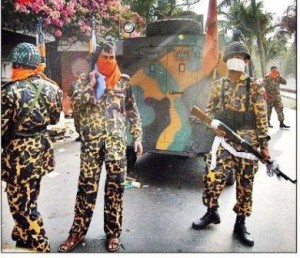 Law Minister Barrister Shafique Ahmed said courts would be set up at six divisions within this month to conduct the trial of BDR mutineers.
"The trial will be held at the courts under BDR Act. Director General (DG) of
BDR will supervise the whole process of trial. BDR persons who allegedly took part in the rebellion on February 25 and 26 at Peelkhana Headquarters and other places would be tried at the courts," he told journalists at his Secretariat office yesterday.
The Law Minister, who is also in charge of the Ministry of Justice and Parliamentary Affairs, said the BDR personnel who were allegedly involved in the killings, arson and other heinous crimes during the mutiny would be tried under the Penal Code. Their trial would be held at Speedy Trial Courts.
The courts would finish the trial process within 135 days, he said.
Replying to a query when the Speedy Trial Court would be able to start its functions, the Law Minister said, "The courts could start their functions after the submission of charge sheets by the Criminal Investigation Department (CID).
Under the BDR Act the highest punishment is up to seven years, he said.
Asked how far the trial could be 'fair and transparent' since the DG of BDR is to supervise the trial process, he said, the alleged BDR mutineers would be able to defend themselves by appointing their own lawyers. Besides, ten lawyers would assist the courts.
"We are putting stress on the neutral and transparent trial so that innocent BDR would not fall victims," he mentioned.
Responding to another query on the death of BDR personnel after the mutiny he said, "It is beyond my knowledge".
Added on - October 21, 2009 | Filed under National