Inferno at NCTB warehouse: Printing 19cr books now a big challenge: Naheed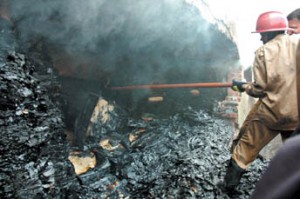 A devastating fire swept through the warehouse of National Curriculum and Textbook Board (NCTB) in the city's Tejgaon Industrial area yesterday.
Fire service and NCTB officials said the fire originated on the ground floor and immediately spread through the three-storey building.
About 15 fire fighters suffered injuries during their efforts to put out the blaze. Fire Service source said their people may have to work through the night to douse the raging inferno if the stacks of books could not be shifted.
The builders, Fire Service source said did not comply with building codes in construction of the warehouse.
They feared huge financial losses as the NCTB stores contained expensive printing paper and printed books.
A team from Bangladesh Red Crescent Society (BRCS) rushed to the spot and provided medical assistance to the victims. At least 150 personnel from the army and 30 others from the navy and air force have taken part in the operation.
A helicopter from the air force hovered over the area since 12:30pm on the day.
The firemen were conducting their operation breaking open the wall at the rear of the building.
Fire Service Director General Abu Naim Md Shaidullah told the newsmen that they dragged out huge reams of paper from the storehouse including a few old textbooks." He also blamed thick smoke for the lengthy operation in bringing the fire under control.Education minister Nurul Islam Naheed who rushed to the spot said free textbook distribution for the next year would not suffer even though huge losses have been incurred.
Naheed said the government has a plan to print about 19 crore books for the upcoming academic year and it has become a big challenge for the government to accomplish the task following the fire incident.
The NCTB authorities said huge quantity of paper for printing textbooks for madrasa education was stored in the storehouse.
The education minister said that when the fire went beyond the capacity of the fire service, he informed Prime Minister Sheikh Hasina who asked Army, Navy and Air Force personnel to take part in putting out the fire.
Lt Commander Shahidul of Bangladesh Navy, who is leading the navy team, said till 2:00pm they could not reach the spot where from the fire might have originated.
"None of us could step forward due to the dense smoke. Even using oxygen masks our people found that the place inside the store very hot," the navy commander said.
Fire fighters said the water being hosed to extinguish the fire would destroy books and all kinds of paper materials stored there.
Meanwhile, a seven-member probe committee has been formed to find out the cause behind the fire and also the losses suffered in the devastating fire.
Added on - October 18, 2009 | Filed under National