Bangladesh concede 1-2 goals defeat against Chinese Taipei in last group match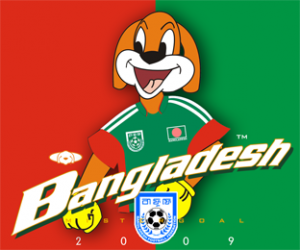 Bangladesh Under-16 team completed their AFC Under-16 Football qualifier on a frustrating note, conceding 1-2 goals defeat against Chinese Taipei in the last Group E match at the Pannad Stadium in the Philippines on Sunday.
In the day's other match, Japan smartly clinched the Group E title with all-win record to reach the final round of the meet beating Indonesia by 3-0 goals at the same venue.
After the day's debacle, Bangladesh quit from race as they finished 4th in the five-team fray securing four points from four outings while Chinese Taipei was placed third with six points from four matches.
Despite the day's defeat, Indonesia finished group runners-up to book a seat for the final round securing seven points from four group engagements while hosts Philippines finished at the bottom without any point.
In the day's match, Bangladesh were unlucky to concede the defeat after missing a series of scoring opportunities one after another, according to a message received here by BFF.
Tsai Hung Wei and Lee Meng Che scored one goal each for Chinese Taipei — one in either half – while Sohel netted the lone goal for Bangladesh.
Unmarked Tsai hung Wei put Taipei team ahead in the 20th minute by a good shot from the D-box (1-0)
In the 35th minute, Sohel leveled the margin for Bangladesh by a good header when an attempt of Anik Barman came his way from opponent goalkeeper (1-1).
Lee Meng Che got a free ball in the danger zone and fired the target giving no chance to Bangladeshi custodian in the 83rd minute (2-1).
Besides, Sifat and Nasir of Bangladesh managed two close calls but failed to materialize any of them into goal amid frustration in the Bangladesh tent.
After the match, Bangladesh coach BA Zubair Nipu said, "We played the match well, but missed many good chances."
Earlier, on Friday, Bangladesh tasted the first win in the five-nation Group E of the ongoing AFC Under-16 meet beating hosts Philippines by a solitary goal in their 3rd match.
Bangladesh's hope to reach the final round of the meet was shattered as they conceded a humiliating 0-6 goals defeat against group leader Japan after making a goalless draw with Indonesia in the opening match.
Source: BdNews24.com