Bangladesh Under-19 team trailing by 87 runs against England Under-19 team on day three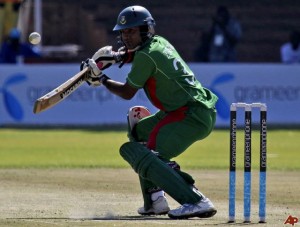 Hosts Bangladesh Under-19 team was trailing by 87 runs against touring England Under-19 team on the 3rd day of the four-day Youth Test at the Johur Ahmed Chowdhury Stadium in Chittagong on Sunday
England Under-19 team resumed the first innings today (Sunday) with overnight total 201 for 7 and were all out for 221 runs in 118.5 overs, adding only 20 runs with remaining three wickets in 10.5 overs on the third day.
Two night-watch batsmen Michael Bates (18) and Calum Haggett (6) scored 22 and 14 runs.
Shaker Ahmed, who earlier took one wicket conceding 39 runs, grabbed all the three remaining wickets of the day to finish 27.5-7-47-4.
In reply, Bangladesh Under-19 opened their first innings and was dismissed for 172 runs in 74 overs to trail by 49 runs in the innings.
Wicket keeper Anamul Haque contributing highest 46 off 69 balls hitting four fours and one six, opener Saikat Ali scored 45 off 167 balls featuring two fours and two sixes while skipper Mahmudul Hasan made 21 runs off 39 deliveries with four fours and one six, were the leading scorers for the home side.
Nathan Buck and Danny Briggs claimed three wickets each giving away 23 and 46 runs respectively.
Taking a 49 runs first innings lead, touring English team opened the 2nd innings Sunday afternoon and scored 38 for 2 in 16 overs at end of the day to take an overall 87 runs lead over the hosts side.
Bangladesh skipper Mahmudul Hasan captured both the wickets conceding six runs in four overs.
Source: The New Nation