Bangladesh play 4th ODI against Zimbabwe today aiming to win series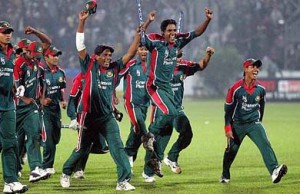 After a disappointing performance in the last match, touring Bangladesh meets Zimbabwe in the 4th ODI of the five-match Grameenphone Cup Series tday (Sunday) at the Queens Sports Club in Bulawayo hoping seal the series with one match in hand.
The winning streak of new look Bangladesh, under the captaincy of energetic Shakib Al Hasan, was halted Friday as the Bengal Tigers conceded 69-run defeat in the 3rd ODI against Zimbabwe, which made record score of 323 against Bangladesh and also at the Queens Sports Club in Bulawayo.
The hope of Bengal Tigers to win the eighth consecutive ODI match did not materialize following their frustrating defeat in the 3rd ODI although they whitewashed West Indies 3-0 last month and earned a deserving eight-wicket and 49-run victory over hosts Zimbabwe in the first two matches of the ongoing series.
Bangladesh, however, has a fair chance of clinching the ODI series for the third successive time in a calendar year if they can beat Zimbabwe in Sunday's 4th ODI match. Bangladesh earned a 2-1 win over Zimbabwe in Dhaka last January and a 3-0 victory over West Indies last month.
Earlier, Bangladesh won overseas ODI series only on three occasions — whitewashing non-test playing Kenya 3-0 in 2006, beating Zimbabwe 3-1 in 2006-07 and whitewashing West Indies 3-0 last month.
A win at Bulawayo on Sunday would enable Bangladesh to celebrate its 50th ODI victory in 205 matches since starting their international one-day campaign against Pakistan at Moratuwa in Sri Lanka in 1986.
Bangladesh has made one change for Sunday's crucial 4th ODI of the Grameenphone Cup against Zimbabwe. Mehrab Hossain Jr., who played in the third match the Tigers lost by 69 runs, makes way for opening batsman Zunaed Siddique. Bangladesh leads the five-match series 2-1.
Tiger Cricket.com added that the injury-struck Bangladesh side is still without the services of pacer Nazmul Hossain who is nursing a thigh strain.
With Rubel Hossain already ruled out of the series due to injury Bangladesh will again rely on their only fit pacers Syed Rasel and Mahbubul Alam for early breakthroughs in tomorrow's game. Rubel's replacement Dollar Mahmud is expected in Bulawayo on the morning of the game.
"We know that we did not execute our plan well and we let our standards drop.
Everyone realises that we only have ourselves to blame for the defeat on Friday. We are really focused on putting up a much improved show tomorrow," said vice captain Mushfiqur Rahim after the Bangladesh side had completed an intense training session at the Queens Sports Club today.
"The wicket is absolutely flat and there is no margin for error. The game has to be won with high intensity cricket and if you lose concentration for a few overs while fielding then the match can quickly get away from you," added Rahim.
Bangladesh team:
Tamim Iqbal, Zunaed Siddique, Mohammad Ashraful, Shakib Al Hasan (Captain), Roqibul Hassan, Mushfiqur Rahim (Vice Captain/WK), Mahmud Ullah, Naeem Islam, Mahbubul Alam, Enamul Haque Jr., Syed Rasel. 12th man – Mehrab Hossain Jr.
Source: UNB
Added on - August 15, 2009 | Filed under Sports