Overnight cable link cut further disrupts Internet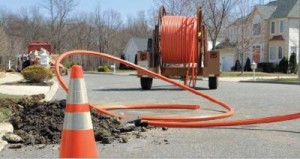 Internet services, already suffering slow speeds, were further disrupted countrywide by an overnight break in the link connecting Bangladesh to submarine cable SE-ME-WE-4, an official said Friday.
Services were expected to be restored by 6pm, said Bangladesh Submarine Cable Company's managing director Monwar Hossain.
Hossain told bdnews24.com that the submarine cable link was cut at around 2.45am between Chittagong and Cox's Bazar.
"Repair work is going on. We are expecting the link to be fully restored with the next one and a half to two hours," Hossain said at 3.30pm.
He said roadworks on the Chittagong-Cox's Bazar highway had caused the accidental cut in the optical fibre link.
Bangladesh had already been experiencing slow internet speeds over the past few days, after Typhoon Morakot damaged submarine cables in East Asia earlier in the week, a senior telecoms official said on Thursday.
Taiwan, Hong Kong, Philippines and Singapore were facing trouble because of the damage to the Asia Pacific Cable Network-2 (APCN-2), BTCL managing director Khabiruzzaman told bdnews24.com.
Reuters also reported that up to 90 percent of all voice call and Internet services from parts of East Asia were disrupted after the typhoon damaged the undersea cables.
Khabiruzzaman had said APCN-2 was being repaired in East Asia and net speeds would be restored by Friday.
But Bangladesh subsequently experienced the further disruption with the break in its own optical fibre link connecting to the SE-ME-WE-4 submarine cable.
Added on - August 14, 2009 | Filed under Technology